For supplier payments, we support payments to both domestic and international suppliers. Use this guide to pay your domestic suppliers in 4 simple steps.
For international suppliers, use this guide instead.
Step 1
Select Supplier as the payment type. Then add a new recipient with the following Supplier details:
Company UEN or Business Registration Number
Company name
Bank account details

Step 2
To create a payment, we require the following payment details:
Transaction details:

Payment amount, GST, h

ow often to pay, p

ayment arrival date(s)

Card details
Payment plan*: Standard / Next Business Day
Bank statement reference (for your supplier to identify your payment)
Promo or referral code, if applicable
*Your card is charged 3 business days before payment arrival date for Standard, and 1 business day before payment arrival date for Next Business Day.
Step 3
To verify your payment, we need your help to upload your Payment Invoice (in pdf, png or jpg). Please take note and ensure the following:
The document is an official invoice.
The document clearly shows the Payor name, Payor and Recipient company UEN, and Recipient name and bank account details matching this payment.
Each payment amount matches or is less than the amount specified in the document.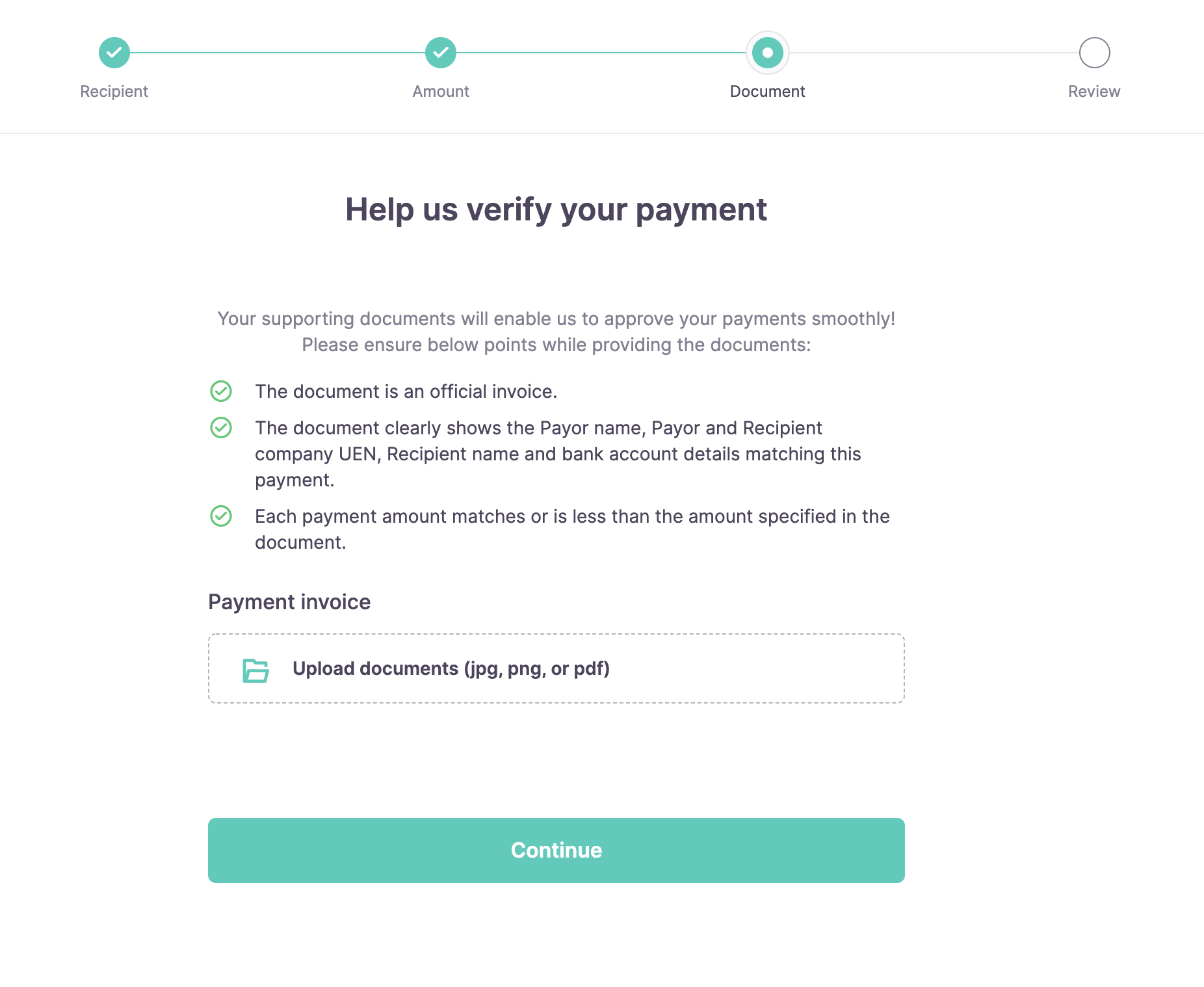 Last step
Run through all details to ensure everything is as expected, then create your payment. An OTP will be sent to you for a card verification charge of S$0.50 (auto-refunded in a few days).
The full payment will be charged as per the Payment charged date stated in the last step.
Note: If payments are created on the same business day as the account verification, there may be an additional 1 business day delay on the payment arrival date depending on the time of the day the verification was submitted.
Quick tips
Save time by setting your supplier payment on repeat (weekly, monthly, quarterly and half-yearly options available)