Have multiple invoices to pay every month? With CardUp, you can now bulk upload your invoices, have them automatically scanned by our software, and pay them all at once – saving you more time!
Note: Promo codes are not yet supported with this feature.
How it works
Save time on invoice data entry
No more manual filling up of payments. Just upload your invoices on CardUp. Our tool automatically scans through and extracts payment information from your invoices (including hand-written ones!).
This is done with 99% data-accuracy and takes 3-4 hours (Office hours).
Bulk load invoices (PDF, JPG, TIF, PNG formats)

Automated invoice payment data entry with 99.9% data accuracy

Eliminate human error with duplicate invoice checks
Schedule all your payments at once, saving time
You don't have to go through the payments flow again and again for multiple payments. Simply select and schedule all your payments at one go!
Pay individual invoices or bulk pay at one go

Payment details

auto-filled

(no manual data entry needed)

Flexibility to customize individual payment details
Keep track of invoices better
Store and manage digitized invoices

Easily organize unpaid and paid invoices
Step-by-step guide
The following sections outline the detailed process for accessing, uploading, reviewing the invoice and making the payments. It is divided into 4 sections
Section 1: Accessing the Invoice payables portal
Step 1: Click on 'Payables' tab on the top panel
Step 2: Click on 'Invoices'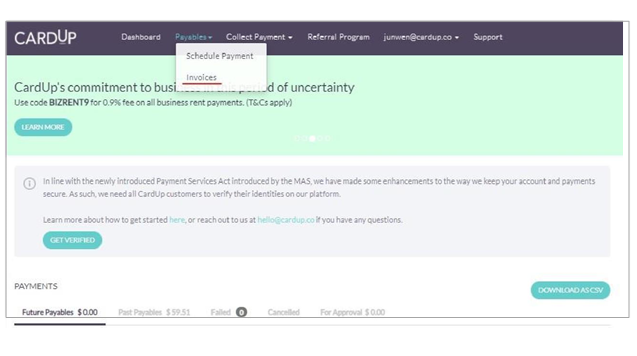 Section 2: Uploading Invoices
Step 1: Click on the 'Upload invoices' button to upload files from your computer.
Your invoices are now being scanned, and data is being extracted for you.
Once done, the invoice status will show "Digitized". You will also receive an email notifying you that the invoices are now ready for your review.
The Status column can show the following values:
Pending: The invoices

are being uploaded onto CardUp for processing.
Processing: The invoices a

re uploaded and currently being processed.
Digitized: The invoices are processed and are ready for

review and

payments.
Note: It takes about 3 hours to process invoices from the time of upload.
To ensure that the automated data entry is highly accurate, we combine both OCR (Optical Character Recognition) technology to quickly read invoices, and a human process to double-check the data – which accounts for the wait time.
This is done to ensure that when your invoice digitized, the data will be highly accurate with 99.9% accuracy, and you don't have to spend time correcting incomplete or invalid data – which you'd typically have to do if you use standard OCR-type invoice scanning solutions.
As the human process operates during office hours, this means that invoices uploaded after 4pm SGT will have the data returned the next morning.
Section 3: Reviewing uploaded invoices
Step 1: Click on the 'Invoices' tab.
Step 2: Click on the 'Drafts' tab to access the newly scanned invoices
Step 3: Click on the 'Review' to review individual invoices.
Your documents will be shown on the right, and the invoice data on the left.
Step 4: If you are happy with the invoice data shown you may click on "Confirm and Review Next" tab to approve the invoice. The invoice will be moved to the "Unpaid" tab, ready for payment. The next draft invoice will be automatically shown on the screen.

Note: To help prevent human error, we have compliance features in place which identifies duplicate invoices and shows an error (as shown in the snap-shot below). If you accidentally upload two of the same invoice, the message will show informing you of this error.
Step 5: You can also approve invoices in bulk by clicking on "Approve selected" Tab.
Section 4: Making Payments
Step 1: Click on the 'Unpaid' tab to view approved invoices
Step 2: Select one of multiple invoices to pay, and click on 'Pay Selected'.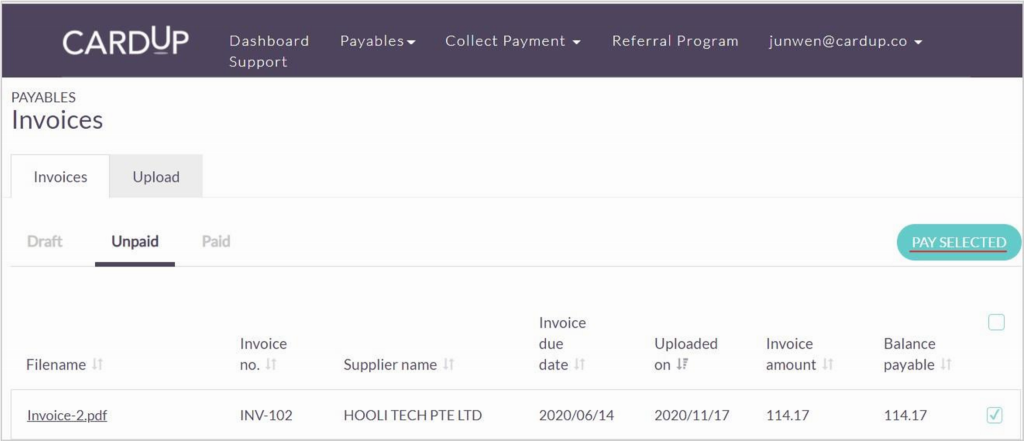 Step 3: Payment details will be show on this page. You can edit the details for each payment and select the card you want to use. Click on "Next" when you're ready.
Step 4: Click on 'Confirm' to make the payments.
You will get the message "Congratulations, your CardUp payments have been set up!".
Step 5: You can now view the invoices that have been fully paid for in the 'Paid' tab of the invoices portal.